Regular monthly meetings take place on the 2nd Thursday of the month at Milton's Pizza and Pasta on 8853 Six Forks Road. Dinner and Social Hour at 5:30 and Meeting at 6:30. 
We would love for you to join us!
Thursday, December 14, 2023 Monthy Meeting
Speaker: Angela Hawkins, Wake County Board of Elections
Do you have concerns about election integrity here in Wake County? Then this meeting is a must attend!  Come hear Ms Hawkins as she explains what can and cannot be done in our elections. Since the November election was the first time that Voter ID was used in NC, Angela should be able to share with us how well that worked.
Should we stop worrying about election integrity here?  Maybe, maybe not.  Bring your own questions and let's hear the latest from our Board of Elections.  
Thursday, November 9, 2023 Monthly Meeting
Speaker:  Beth Pugh Farrell
A most interesting speaker and one who has a dynamic personality, Ms Farrell has worked for the NC State Dept. of Agriculture since 2010. In 2022 she ran for and won a position as Wake Soil & Water Conservation District Supervisor. Growing up and seeing her grandparents work their dairy and tobacco farms, she became passionate with and came to appreciate agriculture and all that affects it including soil and water issues.
Within the Dept. of Agriculture, she has worked on a broad range of activities to strengthen and enhance agriculture in the state that directly impacts farmers and agribusiness. In addition, she works with NC farmers and industry in numerous areas including public relations, international and domestic marketing, and special projects. But a true farm girl at heart, Ms Farrell is often seen in her blue jeans and driving her pickup truck. As time allows, she works with her husband on their own agriculture business, Pack House Farm, a pick-your-own blueberry and heirloom blackberry farm in Apex, NC near Jordan Lake.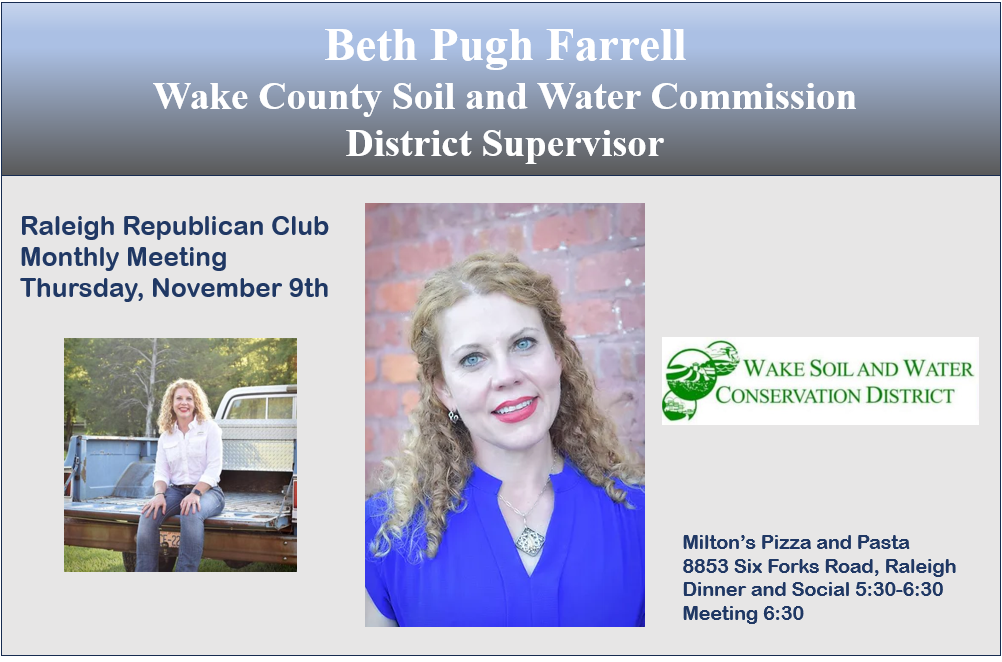 Monday, October 23, 2023 - Dinner and a Movie!
WHO?: Members and guests of the Raleigh Republican Club
WHAT?: Dinner and a movie: Mi Cancun Mexican Restaurant and Dinesh D'Souza's new movie "Police state"
WHERE?: Morrisville, NC, corner of Cary Parkway and Chapel Hill Rd (see details below)
WHY?: Why not? Join fellow conservatives to have dinner and see this newest movie from Dinesh D'Souza
WHEN?: Monday, October 23, Dinner at 5:30PM, movie at 7:00PM
It's as easy as 1, 2, 3, 4
Buy your own tickets directly from The Police State website:

https://policestatefilm.net/

Select Morrisville AMC 16 Theater, October 23 at 7PM

Mi Cancun address is

9605 Chapel Hill Rd, Morrisville, NC 27560

https://www.micancunmx.com/menus/
The restaurant and theater are in the same shopping center, walking distance between them.
Email Jerry,

jerrydoliner@gmail.com

to secure your dinner reservation, using DaaM as the subject.
We are working on a one price buffet, otherwise we will each order off the menu, Cash Bar.
Thursday, October 12, 2023 Monthly Meeting
Speaker NC Representative Erin Paré
She has served in the NC House of Representatives since January 2021 and represents the people of District 37 in southern Wake County.
Come! Be informed! Learn as Rep. Paré gives us an update on the numerous accomplishments by our Legislature.
For the 2023-2024 Legislative Session, Representative Paré serves on the House Committees on:  
Health (Chair)
Appropriations – Health and Human Services (Vice Chair)
Energy and Public Utilities (Vice Chair)
Alcoholic Beverage Control
Appropriations
Military and Veterans Affairs
Regulatory Reform
Rules, Calendar, and Operations of the House 
Thursday, September 14, 2023 Monthly Meeting